Do You Have A Construction Project We Can Help With?
MAIN OFFICE – STRATTANVILLE
17592 Route 322
Strattanville, PA 16258
QUARRY OFFICE – EMLENTON
51 Heeter Rd
Emlenton, PA 16373

Located just South of I-80 near Foxburg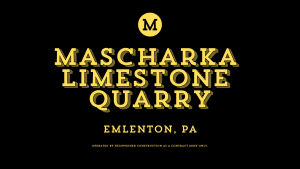 Mascharka Quarry, operated by Neiswonger Construction, Inc. as a contact mine only, specializes in providing homeowners, businesses, and institutions with beautiful natural limestone and crushed stone. Our quarry in Emlenton, Pennsylvania, is approved by the State Department of Transportation.
Lime and limestone are an essential part of road construction, land development, and building construction. We use Loyalhanna Limestone, which is a very strong and durable material with an attractive reddish color. It is classified as an E-source material listing.
When you need crushed stone products made from natural limestone, you need our high-quality stone from the Mascharka quarry. Our company produces bulk material for construction and excavation projects in the Emlenton, Pennsylvania area.
From constructing roads to laying foundations to erecting walls, crushed stone has countless uses around your property and throughout the community. We are happy to work with both residential customers and businesses.
Procure limestone, bituminous dust, mound sand, and other types of crushed aggregate from the Mascharka quarry. We supply all kinds of projects with the best bulk stone products.
We are PA DOT approved
Bulk limestone, mound sand, and crushed aggregate stone are just a few of the options available to the crushed stone buyer at the Marscharka Limestone Quarry. We provide stone and bulk material pickup and delivery for projects throughout the Emlenton, Pennsylvania, area.
Please Note: Neiswonger Construction Operates This Mine As A Contract Mine Only.
Product List:
#2A Limestone
#2RC Limestone
#57 Limestone (2B)
#67 Limestone
#8 Limestone (1B)
Limestone Sand
#1/ Limestone
Lime Dust
R3, R4, R5, R6, R7, R8
Proudly Serving Somerset County, Southwestern Pennsylvania, Northern Maryland, & Northern West Virginia. The knowledgeable staff at our quarry is pleased to assist you. For questions regarding products, directions, delivery, or any other general inquiries please contact us at (814) 764-3455.
Our hours of operation are: Monday–Friday, 6:00 a.m.–4:00 p.m. • Saturday, 7:00 a.m.–12:00 p.m. (Closed on Saturday During the Winter)