Do You Have A Construction Project We Can Help With?
Call Us For Your Gas & Oil Field Service Needs
Marcellus & Utica Pad Development  (Includes Pond Impoundments)
Limestone & Sandstone available immediately for Pad Sites from the Maggie Lynn Limestone Quarry
Snow Removal
Township Road & Pad Maintenance
Rentals of All Heavy Machinery with Operators for Rig Help
Complete Mining Services
Neiswonger Construction has over 10 years of experience mining metal and nonmetal products. All employees are vigorously trained and certified by the Mine Safely and Health Administration. All mine sites are kept above Department of Health expectations and always returned to original condition.
The staff at Neiswonger Construction is dedicated to meeting your needs and wishes when mining to accomplish a joint goal.
Roll-Containers for Central, Northern and Western Pennsylvania
Neiswonger Construction has 7 dumpsters, in both 14 yard and 17 yard size. The approximate size is 8'W, 20'L, 5'H. They are delivered by a single axle truck and prices vary depending on distance & material.Most materials are accepted, excluding anything medical or hazardous. Tires & Shingles may be collected at an additional cost.
Dumpster rental price is based on a 1 week period, however extensions are available upon request.
Our immediate service area is Clarion, Venango, Butler, Armstrong, Jefferson and Forest Counties, but for large contracts we service greater Pennsylvania.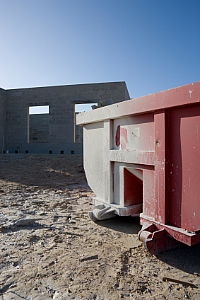 Snow Plowing in Clarion and Surrounding Counties in PA
*Anti-Skid & Salt is Available upon request.

Neiswonger snow plowing has 4 commercial heavy duty snow plow trucks with V-plows and salt spreaders. Our inventory includes everything from small heavy equipment, such as a Skid Steer, to large equipment, such as a 7 yard Highlift. Neiswonger has the resources and manpower to remove any amount of snow. Additional Triaxles are available to haul snow offsite, if needed.
Our snowplowing services both private companies & residences as well as public companies. For example, Neiswonger Construction provides snow removal services for the Clarion Hospital, factories, schools, and businesses. Our primary service area is Clarion County, Venango County, Butler County, Armstrong County, Jefferson County and Forest County and surrounding counties, but for large contracts we service greater Pennsylvania.