Do You Have A Construction Project We Can Help With?
MAIN OFFICE – STRATTANVILLE
17592 Route 322
Strattanville, PA 16258
QUARRY OFFICE – CLARKSVILLE
1994 Morey Road
Clarksville, PA 15322

Located on the Southern Ohio/PA Line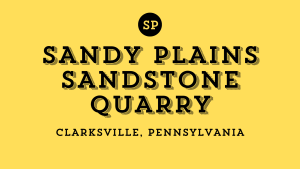 35 Mile Truck Advantage. Lowest Delivered Price in Washington & Greene Counties. 30 Year Reserve
Welcome to the Sandy Plains Sandstone Quarry, operated by Neiswonger Construction Inc., located in Clarksville, PA. With a rich history dating back several decades, our mine is known for its high-quality sandstone and dedication to excellence in the construction industry. As a trusted and reliable supplier of sandstone materials, we cater to a wide range of construction projects, including commercial, residential, and infrastructure developments. Our experienced team employs advanced mining techniques to extract the finest sandstone, ensuring exceptional durability and aesthetics for every application.
We prioritize safety, sustainability, and environmental responsibility in all our operations, striving to minimize our ecological footprint. At the Sandy Plains Sandstone Quarry, we are committed to providing top-notch products and exceptional service to our valued customers, helping them achieve their construction goals with unmatched quality and reliability.
Product List:
ANTI ANTISKID 1 1NCH MINUS
2A 0-2.5
I B I B CHIP
2B 1.5-3 INCH CLEAN
3X0 CRUSH RUN 3 1NCH MINUS
6X0 CRUSH RUN 6 1NCH MINUS
ASI ASHTO#1 CLEAN
LD LIME DUST
R3 R3 CLEAN
R4 R4 CLEAN
OS OVERSIZE 36″ BY 18″ THICK
We deliver sandstone to southeastern Ohio, all of West Virginia, and southwestern Pennsylvania including Washington, Greene, and Fayette counties. For delivery prices, directions, or other general inquiries, call us at (724) 267-2956.